Since the Middle Ages, pilgrims from all over Europe were attracted by the grave of the apostle James at Santiago de Compostela at the far North-Western tip of Spain. Today, both hikers and cyclists from around the world follow the pilgrims trail and are impressed by the experience, whether from a spiritual, cultural or sportive point of view. The St. James trail is an unforgettable journey. A way of encounters, strain, rest, reflection and the origin of the European Idea some even say.
For cycling, we offer a variety of routes along the Pilgrims' Route to Santiago. Use our own bikes for rental or take you own bike with you. As with walking, we provide the luggage transport service, bicycle hire and transport. We have carefully planned the distances you will cover by bike on the Camino, taking into account the nature of the terrain, type of track and other circumstances. We arrange everything from bike hire to travel insurance and local transport to get you to the start of your Camino as quickly and efficiently as possible.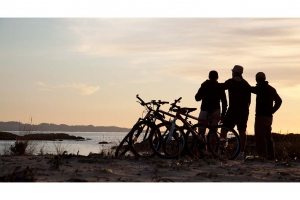 Our main aim is to provide all the possible information about the journey. Consequently, we provide our clients with the maps, descriptions, plans and instructions they need for each route.
We make sure that the accommodation suits our client, offering a pleasant atmosphere for travelers and placing particular emphasis on the quality of the breakfasts.
We also work with different kinds of accommodation, from comfortable hostels and small hotels to "Paradores" and charming hotels.
The Camino de Santiago is a great cycling experience for several reasons. You will get to know Spain´s most spectacular landscapes, historical monuments and charming villages pedaling on a bike.
The Camino is also a great opportunity to meet people from all over the World.
All you have to do is ride and enjoy the journey.