Every year more pilgrims arrive by bike to Santiago de Compostela.  Although there are many routes, we recommend you to follow the 300 km of the French Way from León to Santiago de Compostela by mountain bike or E-Bike. Thanks to our long career organizing the Camino de Santiago, we customize your trip and every detail to assure you the best experience. Here we give you some information about Cycling the Way of Saint James through its French Route.
The Way of Saint James by bike
We propose you start the Camino de Santiago by bike in León , a city in the autonomous community of Castilla – León, inland Spain. You can choose to live this experience as a self-guided tour or in an organized guided group. In both options, we ensure will enjoy every moment, the landscape and the special essence of cycling the Way of Saint James.
Throughout 300 km and 8 days, you will be cycling each stage at your own pace. In addition, you will share experiences with your travel colleagues without giving up your moments of peace and tranquility.
Carefree with Spain Incoming
Spain Incoming as your incoming agency travel, we organize every detail of your trip. From your arrival in León until reaching the cathedral of Santiago de Compostela you will be cycling and living the the Way of Saint James without worries. We chose carefully the hotels; we look for the best services and assure you un buen camino.
Before starting The Camino
Before starting your adventure, we give you all the material you will need:
Documentation about the French Way and the stages.
Your Credential, the pilgrim's passport. With it you can request La Compostela or other certificates. Remember you must at least cover the last 200 kilometres, if you would like to receive it.
Welcome cocktail, guide and support car  in our guided tours
Our rental bikes
You will receive your bikes and we will talk about the Camino and its stages … get ready to enjoy this experience.
During the Way: all are advantages!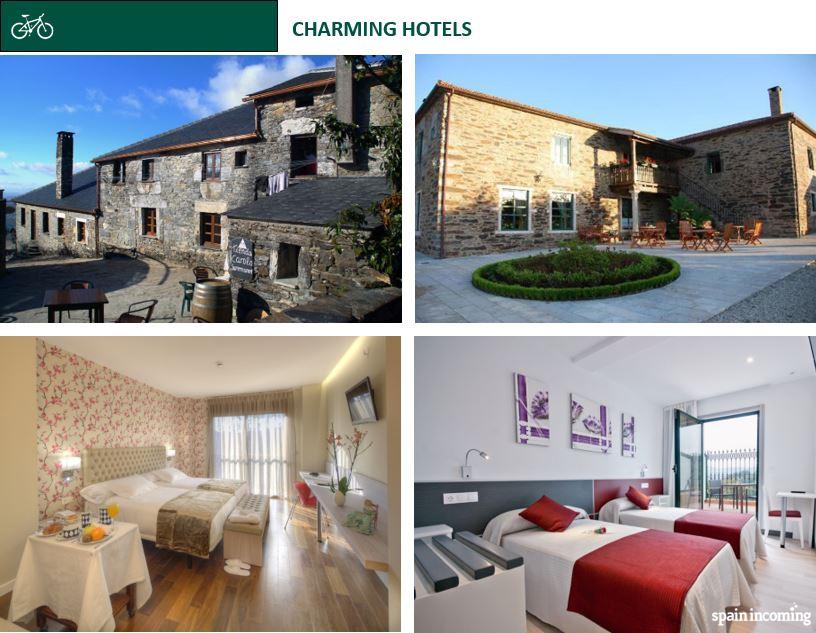 We offer you the rental service of mountain bike or E- bike. In addition, we offer free Premium Assistance throughout the Camino.
Luggage transfer service: You will not have to worry about carrying your backpack; we offer a luggage transfer service; it will be waiting for you at the end of each stage.
Guide in our guided tours – We assure you that our guide will be on your side to help you in every you may need, as well as a support car.
Charming hotels: At the end of each stage you will rest in a unique accommodation where you will enjoy good food and all the comforts and services. In addition, the selected hotels stand out for their charm and quality services
We have available different organized trips through the Way of Saint James and we can organize a personalized experience to your availability and preferences.
We prepare everything to your Camino, do not miss the chance of cycling The Way of Saint James.