If you want to know every detail about 5 interesting things to know about the Spanish Easter during the Holy Week celebrations , read on.
Easter in Spain
Certainly, Easter Week is in origin a religious celebration. The date varies according to the lunar calendar. Here we tell you 5 things you should know, many of them are delicious!
1. Easter processions
To enumerate, nunber 1 on of the 5 intereting things to know about the Spanish Easter are processions, kind of a parade that follow the streets of Spain which are usually accompanied by a Virgin or a Christ. . The most curious processions are in Andalusia, Murcia and Castile and León, a unique event that brings thousands of people.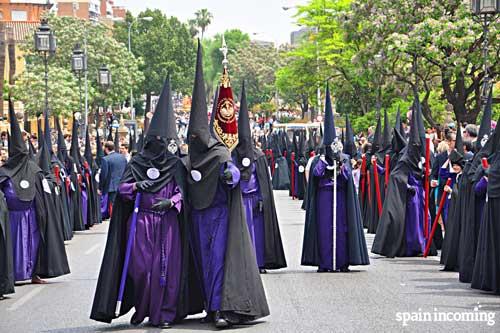 The members of the procession, the brotherhoods, are dressed in a very characteristic way with "capuchones". Ferrol in the North of Galicia stands out for its Holy Week which was declared a Festival of International Tourist Interest in 2014. Processions in Ferrol show great devotion.
2. Rosca de Pascua, Easter dessert
In Spain there is a traditional dessert of Easter called "Rosca de Pascua". It is a dessert of Italian origin that was originally made from milk, flour and egg. Nowadays, there are many varieties; filled with fruit or even chocolate … a sweet you have to try!
3. Easter egg
Although, the Easter egg has a pagan origin, but the Christian religion returned to this tradition with other meanings such as fertility and life. Another modality is the chocolate eggs, more modern custom that spread this Easter tradition all over the world until our days.
4. Huesos de Santo dessert
In addition to the Easter eggs we can find another typical dessert for the Holy Week are the Huesos de Santo which are typical on the Day of the Death and during Holy Week. They are traditional sweets that are made with marzipan and originally filled with egg yolk. They have a cylindrical shape and you can find them filled with chocolate or dulce de leche. A sweet that will surprise you!
5. Palm Sunday
This day coincides with the beginning of Holy Week, religiously represents the day that Jesus Christ went to Jerusalem. Olive branches represent the  Palm Sunday and the life and resurrection of Christ.
Now, you are ready to travel to Spain and discover culture and nature, from the Green Spain, Mediterranean Spain, Inland Spain to Andalusia or Balearic Islands… Choose your destination and Spain Incoming, as your incoming travel agency we organize and customize your trip.